George Hamilton Bell Jr.
1951 to 2007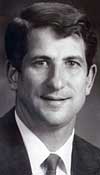 George Bell of Blacksburg Virginia died of cancer June 11 and seemingly didn't waste a minute of his 55 years. A fun-loving extrovert, he was named an All-American swimmer in high school, earned a doctoral degree in exercise physiology from Virginia Tech, owned an aviation company, worked as a private financial consultant and was a member of the Kiwanis Club. And that was before the car crash. After suffering a head injury in 1992 that affected his walking and short-term memory, Bell continued to work hard and volunteer.
He worked at Blacksburg High School as the swim team coach and as an in-school suspension supervisor. He also volunteered at Gilbert Linkous Elementary and Auburn High schools.
In 2003, he worked at Tech's University Bookstore. In 2004 he started working at Au Bon Pain in Tech's Squires Student Center, where he served as a customer service representative and cashier. "Everybody loved George," said Luther Moseley, unit manager for several of Tech's dining facilities. "His co-workers enjoyed working with him, he knew a lot of our student customers by name, and he just had a great customer service attitude about him. He just loved people."
Growing up, Bell lived in New York, Virginia and Florida, said his wife, Barbara. The couple met in college at Wake Forest University in North Carolina, where George Bell was pursuing a bachelor's degree in philosophy and a master's degree in exercise physiology. They were married after graduation and moved to Blacksburg in 1976 so George Bell could pursue his doctorate at Virginia Tech. While there, he worked in the cardiac rehabilitation laboratory with Bill Herbert, a human nutrition, foods and exercise professor at Tech. "George was really energetic and a positive individual and hardworking," Herbert said. Bell later joined the faculty and taught undergraduate health and fitness courses, Herbert said. Bell also continued to supervise the aquatic division of the department's community exercise program. He took flight lessons at the Virginia Tech airport and in 1985 purchased a flight company, Blacksburg Aviation, from a friend. He owned and operated the company for five years.
In 1985, he also started working with New England Financial group and later branched out on his own.
George and Barbara Bell have two children, Nancy and Jim. Jim Bell, 22, recalled the tricks that his expert-swimmer father used to play on him growing up. "Whenever we used to go on boat rides, he'd like to trick me into thinking it was sinking and have us jump off frantically and go for a swim in the middle of the lake," Jim Bell said. "I was 5 and I fell for it every time."
Jim Bell attends Virginia Tech and said he would often stop by to see his father when he worked at Au Bon Pain. He said his father was "very enthusiastic" and "wanted to ask questions about everything." "He was an involved sort of guy, liked to get into everything," he said. "He could always do it, no matter what."