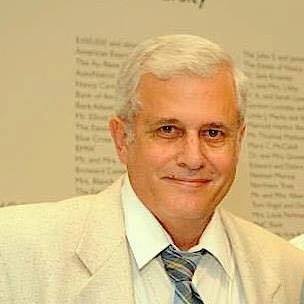 John Edward Bell
May 10, 1951 to June 5, 2016
John, a long-time Plantation resident, lost his fight on June 5th, 2016 to overcome sudden medical conditions arising from diabetes and cancer. He was 65 years young.
Friends, colleagues and family will always remember John as a true gentleman, kind, and possessing a warm spirit and wry wit. A gifted writer, John would have made this obituary an engaging and touching send off. With his typical self-deprecating humor and a deep appreciation of the ironic, he would have closed this chapter of his journey with a quote from Gilda Radner's iconic SNL character, " Ya know, it's always somethin' ".
Born May 10, 1951 in Wheeling, WV, and growing up in Martins Ferry, OH, Mr. Bell's deep appreciation for and love of this small Ohio Valley town flourished over the years even as he happily established his home and family in Broward County, FL. John cherished his boyhood home, calling it "the one place where I can draw a deep breath and be at peace with myself." It was the source of inspiration for a series of essays he titled "Ferry Dust"- a slightly fictionalized account of the events and impressions of his youth. His nostalgia for Martins Ferry and Wheeling were well known by family and friends and he was a regular and valued contributor to the Memories of Martins Ferry Facebook group and the Memories of Wheeling West Virginia Facebook group.
John was a 1969 graduate of Stranahan High School and 1973 graduate of Florida State University with a Bachelor's Degree in English Literature, which set his course in life. Words were important to Mr. Bell, and always carefully composed, whether in his role as a professional journalist, publicist or when taking a child, niece, nephew or grandchild on a neighborhood walk and turning it into a "jungle trek". He got his feet wet as a copy boy for the Fort Lauderdale News while still in college and then began his extensive writing career as a reporter for the Fort Lauderdale News, continuing with the new "West" section in the late 1970s. John met his future wife, Leslie Adams, at the estate of Ted Gore, then-president of the Fort Lauderdale News. After many years as a journalist,
John transitioned to the other side of the desk and became a public relations professional, providing communications for many national, international, regional and South Florida-based corporations including Fed Ex (Latin America), ACR Electronics, Inc., Broward Performing Arts Foundation, Bear Archery, RCC, Pulsetech, Transplant Foundation, and Guy Harvey, Inc. Mr. Bell's extraordinary grasp of the changing needs of newspapers and magazines over the course of major technological change enabled him to provide the type of content that was eagerly sought by a variety of media outlets, gaining major visibility and readership regarding his clients' products and services.
John was active in his support of several South Florida non-profits, including the Scottish American Society of South Florida, which provided an annual opportunity for this proud Scot to dress in authentic kilt and dine on haggis, one of his favorite treats. Always an advocate for children in need, John supported Kids at Home in Boca Raton, Florida, was a "Secret Santa" to ensure children at Saint Mary Central School (Ohio) would not be without a gift at Christmas, and supported the school itself with an annual gift. John also served on the Board of Directors of Gilda's Club of South Florida for over five years. His expertise in marketing, public relations and brand development was instrumental in expanding awareness of Gilda's Club throughout the South Florida community.
Mr. Bell is survived by his wife, Leslie Adams Bell, daughter and son-in-law Renee and Wesley Hawk, grandson Zane Hawk, brother James E. Bell, Jr., sister Deborah Adair, numerous nieces and nephews, aunts, uncles and cousins around the world.
In memory of Mr. Bell, donations can be made to Gilda's Club of South Florida, 119 Rose Dr., Fort Lauderdale, FL 33316, or Saint Mary Central School, 24 N. Fourth Street, Martin's Ferry, OH, 43935.
A memorial service and celebration of his life will be held at St. Benedict's Episcopal Church, Plantation on August 5th, 2016.